Recommendations for Expediting the Implementation of the Common Market Protocol in the East African Community
Keywords:
Common Market Protocol, East African Community, Regional Integration, Trading blocs, Regional Economic Communities, Common Market, International Business, International Trade
Abstract
The East African Community (EAC) marks one among many of the efforts of East African countries, including Uganda, Tanzania, Kenya, South Sudan, Burundi and Rwanda to unite. As far back as the colonial era, these countries sought economic and social integration through the construction of the Kenya-Uganda railway in 1897. The East African Community ratified the Common Market Protocol (CMP) in 2010 with the goal of increasing intra-regional trade by allowing the free movement of factors of production, such as capital, people, goods, and services. The growth in trade through a common market would, in turn, promote the region's integration. However, the EAC member states are yet to fully embrace the protocol despite the anticipated benefits. The process has dragged on for years due to numerous setbacks.
The research analysed the hindrances to the CMP's full adoption through theories of international trade, regional integration and economic growth while highlighting achievements and solutions towards enhancing the CMP. The research interrogated international business paradigms and noted the dominance of firm level paradigms leaving the emerging interaction paradigm understudied. The research utilised triangulation including a literature review, content analysis, field research findings from questionnaires and the interviewing of selected individuals from the member state governments, regional trade bodies and private sector practitioners across the region. The research used a mixed methods research design with multiple regression for pre-study quantitative findings and interpretative phenomenology for qualitative findings.
The findings posit that the Customs Union, EAC passport and free movement of goods are the major achievements, while poor political leadership, divergent national laws and poor physical infrastructure are the major challenges. The research proposes trade liberalization, reconciliation, market-driven cooperation, the principle of subsidiarity and political cooperation as major solutions towards CMP implementation. The commonalities from the data triangulation brought out components that were added by linking the information to formulate the framework for enhancing the implementation of the EAC Common Market Protocol. The framework is believed to be the first to illustrate how key stakeholders can work together to propel a regional integration initiative towards a seamless common market. The framework also adds to International Business theory in the understudied emerging interaction paradigm.
The implementation framework developed in this research can be useful in ensuring that the EAC achieves its CMP implementation goals. Other regional trading blocs can borrow lessons from the East African Community and use the framework as a guideline to resolve issues related to implementation in their common markets. At present, the newly formed African Continental Free Trade Area (AfCFTA) keen on implementing a free trade area across the African continent could also benefit from this framework.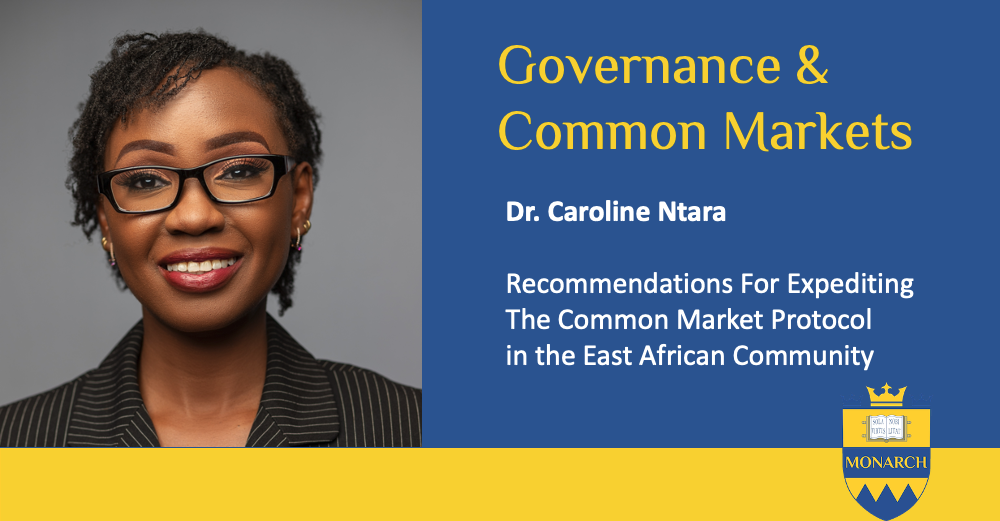 Downloads
Section
Dissertation Summaries