Foreign Direct Investment In South Africa: A Comparative Analysis Of Successful Country Level Programs For The Manufacturing Sector
Keywords:
Social Justice, FDI, Foreign Investment, Corruption, Employment, Skills, Technology
Abstract
Foreign Direct Investment (FDI) is widely regarded as one of the engines for social economic growth, employment, skills and technology transfers (Lessmann, 2013; Akalpler & Hemn, 2017; Hazelhurst, 2011; Tuomi, 2009). More specifically, Mallampally & Sauvent (1999) highlight that FDI can make a considerable contribution to the economic progress of developing countries. A large number of developing countries lack significant domestic savings in order to achieve their internal investment goals, therefore FDI appears to provide a means for this requirement (Levine, 2005; Dupasquier & Osakwe, 2006; Wentzel & Steyn, 2014). The positive social and economic results of FDI are desperately needed by South Africa (Tuomi, 2009). However, Anoosha & Nieuwenhuizen (2019) observe that South Africa has underperformed regarding FDI inflows in comparison to other developing countries. Jordaan (2016) notes that in 2012 South Africa was seen as an attractive investment destination, yet by 2015 had recorded significant declines in FDI by 74%. Moreover, South Africa does have an established FDI program covering special economic zones, reduced corporate tax rates, building and employment allowances (Department of Trade, Industry and Competition, 2021). According to Habanabakize & Muzindutsi (2018), the manufacturing sector remains a key economic area of the South African economy contributing 11.8% in 2019 towards the total GDP of USD 351.4 billion (World Bank, 2021). According to South African Market Insights (2020), the manufacturing sector is seen to be a significant driver for employment and could benefit from increased levels of FDI.
The contemplated research examines the above through an analysis of seminal literature related to theories of Social Justice, Corruption and Foreign Direct Investment. The research will attempt to construct a new FDI framework with specific emphasis on increasing FDI inflows to South Africa. Furthermore, the research will analyse the positive effects that FDI could have on economic growth, employment, skills and technology transfers. The above will be researched utilizing a triangulated research method by reviewing existing academic literature along with the analysis of various governmental and company data coupled with interviews of key stakeholders in public and private sectors, the foreign business chambers, commercial banks and companies within South Africa.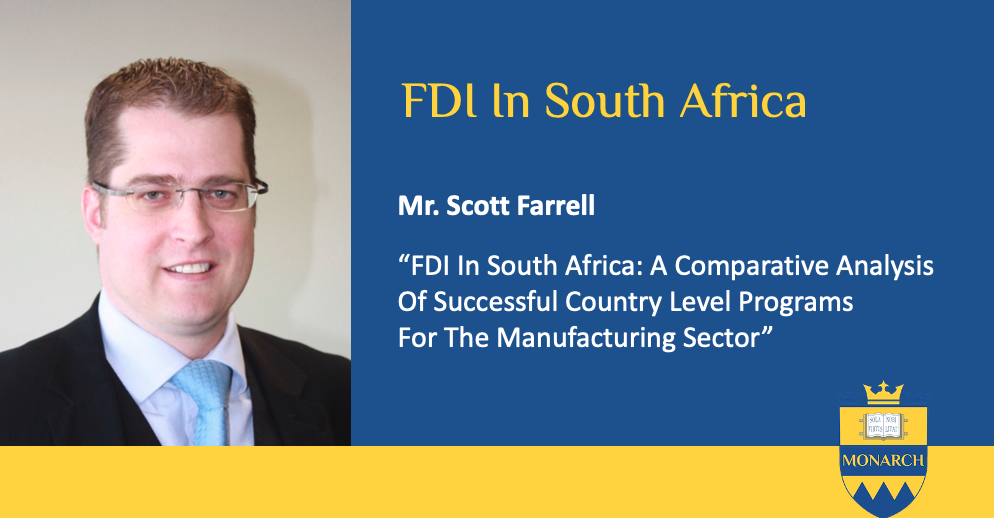 Downloads
Section
Doctoral Research Proposals